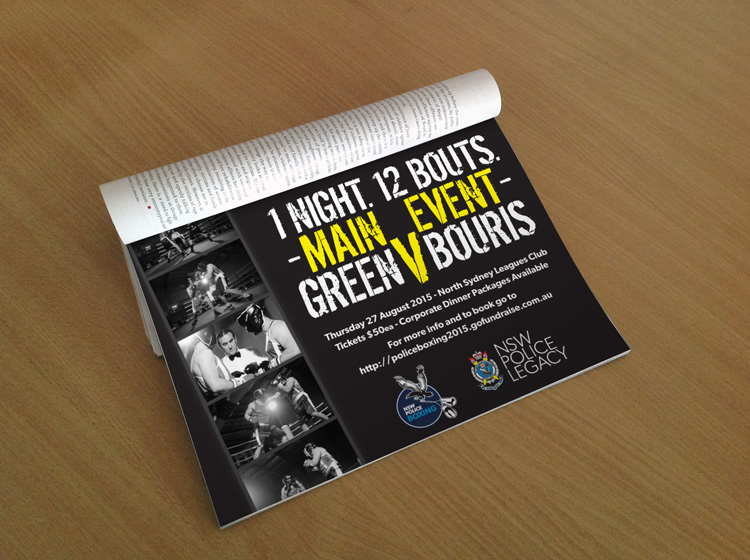 CLIENT: Fresco Creative – New South Wales Police Legacy
VARIOUS PROJECTS
DATE: May 2015 – April 2016
DESCRIPTION: NSW Police Legacy is the NSW Police Force Charity, committed to the care and support of over 20,000 serving and retired police officers and their families during times of tragedy and need. NSW Police Legacy honour the history and proud traditions of the NSW Police Force. We embrace the camaraderie and unique bond shared across the police family and take pride in providing compassionate, continuous and long term support in the best interest of those whose care we have been entrusted.
Working on design projects for NSW Police Legacy was very rewarding work for me. The idea of designing for good is something that is a the core of who I am professionally and personally, and working with NSW Police Legacy whilst working at Fresco Creative has inspired me to volunteer my design skills with other charity and not-for-profit organisations.
You can donate to NSW Police Legacy and find out more about the wonderful work they do at their website: policelegacynsw.org.au
Over 12 months of working at Fresco Creative I worked on various projects with NSW Police Legacy, creating print, web and event collateral to support their fundraising events as well as producing internal documents and informative literature. One particularly special project was designing and producing collateral for the annual Blue Ribbon Ball which included advertising, posters, invitations, a sponsorship prospectus, raffle tickets, event booklets and a media wall. This years event was 1920s themed, and attended by over 600 guests. The 2015 Blue Ribbon Ball and Blue Ribbon Raffle collectively raised over $100, 000 for NSW Police Legacy.
Images of some of the design projects created for NSW Police Legacy can be seen below. Click the thumbnails for a larger view. Please note, the design of this work remains the intellectual property of Fresco Creative.